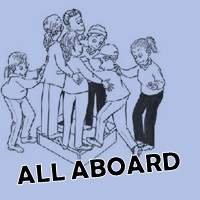 The All Aboard Challenge
All aboard is a fantastic and amazing exercise to challenge your group to creatively encourage the best strategy and planning.
It is also an activity to practice problem solving and test physical skills.
First, lay a 1m x 1m wooden platformon a flat surface in front of your group. Then, challenge your group to support as many people as possible on the platform without touching the ground for a period of 5 seconds.
When ready, allow up to 15 minutes to complete the task or other time as will challenge your group.
Process your group's experience at the conclusion of the task.
Moment of Reflection
What did you notice about your planning process? Was there any planning conducted?
What types of support were offered during the exercise?
Did the number of people your group could support on the platform surprise you? Why?
What was necessary to help your group succeed?
Could you do better? why?
The topics of this publication: interactions, strategy, collaboration, teamwork, cooperation, leadership, adaptability skills